By The Computer Doctor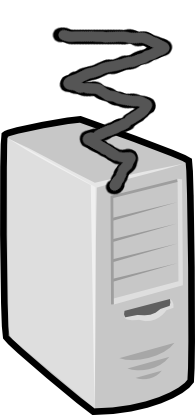 Finally, the moment I've been waiting for, I have my first server.
As many of you who have followed me over the past year know, I inherited five servers from a school who just closed and have been storing them at my friend Fred's house ( see
Holy Man Or Hallucinating Ham
for the incredible story of Fred
laying on of hands
). So I finally picked up the first of those servers to set up at my house and promptly ran into problems.
We started out with a three disc
RAID5
logical disc with 17.8 usable GB. I installed sever 2003 and got all the updates. When I got home I did some investigating and found another logical disc with 69.3 GB offline that was available so I promptly brought it online. Finally I decided to try to merge the two logical discs for one combined 6 disc
raid array
which would probably have given me roughly a 92 GB
logical drive
.
Now the first 17 GB logical drive is offline and one of the other disc's read critical and I am having to re-install
Server 2003
. Now it dawns on me that this might be the same server that kept giving the school all the problems in the first place.
So in addition to finishing up preparations for the studio I am having to learn all about this
RAID controller
to try to repair it.
CALLING ALL GEEKS AND HACKERS:
If anyone knows anything about a Adaptec AIC-7896 RAID controller, send me a comment or use the contact us page at the top. I will be researching this on my own until someone helps me, I find the answer or I get tired and move on to a different server.